Strangers are just friends you haven't met yet.
Marilyn Elmore, aka
Chessie
made a comment on my recent post about heading to the
BMW MOA National Rally
in Johnson City, TN. Chessie, is a local rider. I asked her if she'd be willing to write a guest blog about a ride for all of my BMW buds that will be descending on the area in two weeks; and she was kind enough to agree.
Chessie's Favorite Local Ride in Northeast Tennessee
This particular circle is one of my favorite "local" rides here in NE TN. It's about 122 miles...and Google says it will take almost 4 hours to ride...and that's true as long as you don't slow down to see the beauty that is both Tennessee and Western North Carolina. I, on the other hand prefer to stop along the way to photograph the blue hues of our local mountain ranges. The sparkling sunlit rays bouncing off our flowing streams and rivers...the abundant wildlife and wild flowers that are standing on the edges of our roadways...waiting for you to notice...Northeastern TN and Western North Carolina are wonders of color and beauty that can leave you awe struck...if you just slow down to see what's there!
Go To Google Map
Most of you will be starting from
Gray TN
. or Johnson City... this part of the ride is unremarkable...you can take the suggested route to Elizabethton, TN. or just take I-26 to the Elizabethton Exit Route 91. Take Route 91 into Elizabethton until you arrive at Route 19E, which is a southbound road, leading you out into the foothills of our Mountains...up...up...up into our tallest mountain in the state of TN...Roan Mountain. I like this part of the ride...it's where you will start to find the troubles and the tensions of the world slipping off your back...dripping away from your thoughts, lightening your load to the point you realize you have tears of gratitude stinging your eyes...you will fight the urge to raise your hands into the air and whoop as loud as you can...maybe you will win the fight, but let me urge you to just let go...and do it...it is the pure simple joy of your childhood...and you haven't done that for such a long time...just do it!
Before long you will be in the town of Roan Mountain...and will be coming to your next turnoff... you will be turning into
Roan Mountain State Park
...into
Cherokee State Park
....it will have many names as you ride this road...but stay of good heart...you will not be leaving the main roadway....you will be on Route 143, NC 261...oh you will be overjoyed at the ride up Roan Mountain to the pinnacle...how wonderful...how beautiful...how craggy...how woodsy it all is. Your mind will empty of the daily crap...and fill with the healing sights and aromas of nature. Your ready to cross the state line now...heading down the other side of our mountain... you're now in North Carolina...oh...it's just as different on this side of the mountain...you will begin to notice subtle differences...the road surface, the homes, the rock faces of the mountain...ahhh it is just amazing the amount of emotions your going to faze into...and out of...
Reaching the end of Route 261... you're in Bakersville...outside of Bakersville you're going to hook up with Route 226 South...it's a nice gentle road...with streams and beauty running along side your route...but your getting antsy for something with a little more skill level...your ready for some twists...it's coming my friends...a little warm up for you is when you hit Route 1170 South...still gentle curves, but in faster frequency...raising your expectations a couple of notches higher...your prepping yourself for Route 19W....it's God's country up there...you will love it, I promise.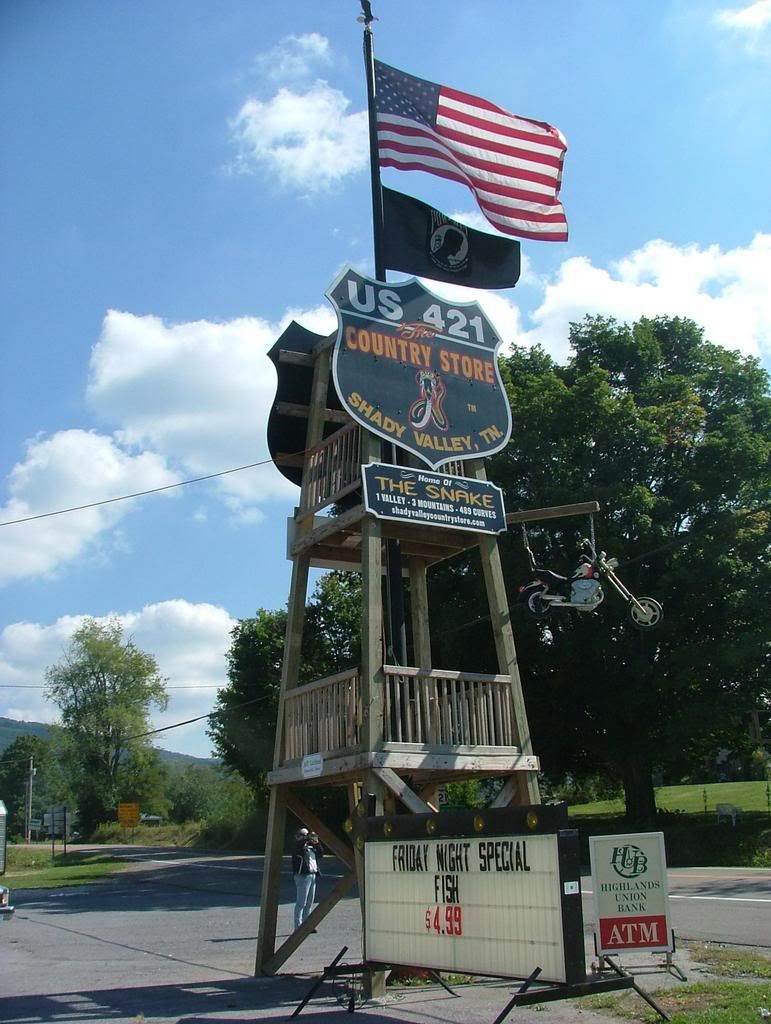 After a while, you're on 19E...not such a nice road at this time. They are blasting and making it larger...what for I don't know, my guess? Pork Barrel work...it really isn't needed from my perspective... but...it's the only way to get to 19W...and this is what your here for...this road...nothing will prepare you for it's beauty, for it's aggressive sweeps, switchbacks, and the beautiful
French Broad River
....This is what you have been riding all day for...it's wonderful...it's magic...sweeping up this mountain from North Carolina...and into Tennessee...you will so enjoy the buildings here, the rustic atmosphere of our mountains...you will soon come down into Erwin...and realize...it's almost over...but you will want to do 19W again...and again...and again...there is too much to see...too much to feel, too much to experience...waterfalls, suspension walk bridges...ah my...your coming back to ride this one again...I promise...